Key Industries | Authorized Distributors | Press Release | Links | Blog | Testimonials | History
OUR COMPANY
OUR MISSION
"Instilling a symbiotic relationship for our principals and customers and to be a profitable provider of high quality rolling bearings and solutions that provide strategic value to our customers and create an organization that is trust worthy and can attract, recruit and retain smart and talented employees"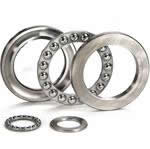 OUR VISION
To become the most successful and respected corporation globally by achieving recognition as a first class rolling bearings supplier and solution provider in a rolling world.
OUR VALUES

Model of Excellence
To implement best practice and set superior standards in our work processes & methods.
Integrity
To possess upright characters and steadfastly adhering to high moral principles and professional standards.
Nurture
To educate and develop our people for growth, whilst providing them care and welfare.
Diligence
To show persistent effort and hard work.
Ethics & Social Responsibility
Our professional staff is friendly, courteous, knowledgeable and above all responsive. Your questions and quotes will be answered promptly, your transactions will be implemented efficiently, and your product will be shipped on time.